Staffing Variation Profile
The staffing variation values for all subjects can be plotted on a chart to produce a staffing variation profile.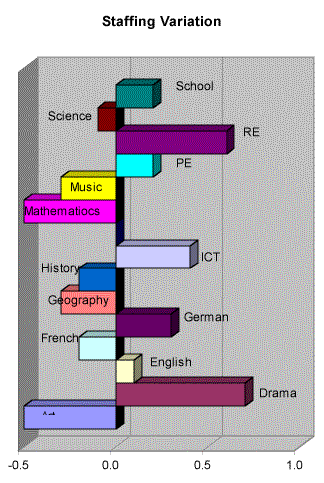 The staffing variation profile provides us with an at a glance overview of the match between the operational staffing needs of a proposed curriculum model and the current or proposed staffing available.
It is these variation values that provide us with the information that we need for both short term and long term recruitment strategies.
The negative values in the chart indicate the number of F.T.E. specialist teachers that can be lost from each subject without compromising the curriculum.
The positive values in the chart indicate the number of F.T.E. specialist teachers that need to be recruited in order to meet the demands of the curriculum.
Because of the nature of the operational staffing need calculation, these variation values take into account the impact on specialist staffing needs of the actual management structures, differential non-contact time and the demands of pastoral tutoring! In other words, there are no further adjustments to make to the staffing figures.
Timetable Blocking
Timetable blocking provides a theoretical basis for extending the concept of the operational staffing need to the construction of an optimum block timetable. The concept of optimum in this context includes the need to allow subjects to GROUP students in what ever manner is most appropriate for each curriculum area. The optimum size, in periods, for a timetable block is given by bcontext.
---
bcontext = bideal / (1 + q/ts + tnct / (n . P))
For a full explanation and derivation of this equation see the Time Blocking section.
---
Training and Professional Development
Professional development and training opportunities are available through Cornwall College National Training.
Dynamic Modeling
The staffing variation calculator is an invaluable tool for calculating operational staffing needs for a known curriculum model, non-contact time policy and school management structure. However, a far more powerful tool is required for dynamic modeling that allows us to match proposed curriculum frameworks to a financial budget and at the same time assess the impact on staff deployment analysis and staffing variation analysis of changes to the planned curriculum, staffing structure and use of non-contact time. Cost2001 software has been developed to meet this need.